Just you and your guide — and a wide-open desert to explore. Within the parameters of time and distance traveled, we will work with you to chart a custom tour for a personal experience you'll never forget! At the base of this page, take a quick look at some of your tour options. Not sure where you'd like to go? No problem. We can set the course. It's what we do.
Large parties, such as corporate, school or wedding groups, should check out our Private Group Events page and give us a call.
So, are you ready to roll? We've got your wheels — let's move on out!
Price List & Vehicle Options for Private Excursions
Note: The prices shown are total, not per person.
2.5-hour tours include snacks / 5-hour tours include lunch
Number
of People
2.5 Hours
5 Hours
Vehicle Options*
1
$300
$500
CJ7 or Renegade
2
$390
$580
CJ7 or Renegade
3
$450
$660
Renegade
4
$520
$860
Renegade or small truck
5
$615
$1,000
Small truck or van
6
$720
$1,200
Small truck or van

More Options/Larger Groups

7
$820
$1,400
Small truck or van
8
$910
$1,560
Small truck or van
9
$970
$1,710
Small truck or van
10
$1,020
$1,850
Large truck or van
11
$1,100
$1,980
Large truck or van
12
$1,200
$2,100
Large truck
13
$1,275
$2,275
Large truck
14
$1,400
$2,400
Large truck
15
$1,400
$2,500
Large truck
16
$1,400
$2,500
Large truck
17
$1,400
$2,500
Large truck
*The vehicle options are as follows: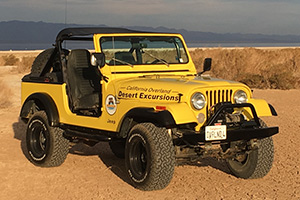 Jeep CJ7: Open-air Jeep that seats 2 passengers. It is lifted and requires some dexterity to enter and exit. But once you're inside, it's the ultimate safari vehicle!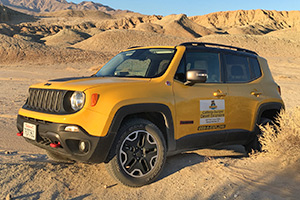 Jeep Renegade Trailhawk: Enclosed, climate-controlled Jeep that seats up to 4 passengers; easy to get in and out of; smooth suspension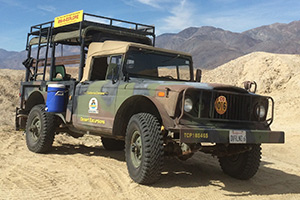 Small military truck: Open-air military truck with cushioned side seating; holds up to 9 passengers; made for rugged fun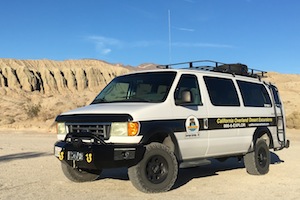 Excursion Van: Off-roading van that is enclosed and climate-controlled; holds up to 11 passengers. A fun, comfortable way to travel together in all kinds of weather!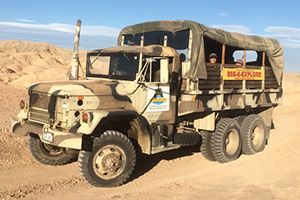 Large military truck: Open-air military troop carrier with forward-facing, upholstered seats. Its 10-wheel drive gets you anywhere; holds up to 17 passengers. (We have 2 of these large trucks.)
Sample Itineraries
2.5-hour tour (includes snacks & iced lemon water)
Badlands Adventure: Ride through the surreal badlands, stop and explore a mud cave, and enjoy the spectacular view from Font's Point, which is sure to take your breath away!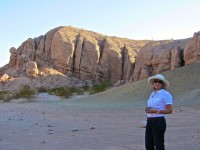 Canyon Adventure: Hike into "The Slot," a mysterious and very narrow slot canyon formed by water erosion. Then have a snack under a desert ironwood tree in a beautiful multi-hued box canyon — Hawk Canyon.
5-hour tour (includes hearty lunch & iced lemon water)
Three Terrains: Hike into a slot canyon, take in the vastness of a dry lake bed surrounded by colorful mountains, off-road through the mazelike desert badlands, and experience the incredible view from Font's Point — one of the best-kept secrets in the Southwest.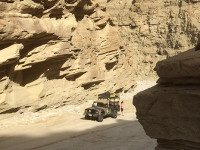 Split Mountain: Earthquakes and massive flooding have literally torn this mountain in half — resulting in an enormous slot canyon with towering rock walls. Hike one mile uphill to the strangely beautiful wind caves, where we'll have lunch. Colossal geologic forces have created fascinating rock formations for you to explore.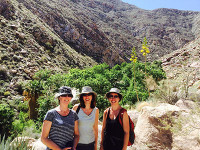 Sheep Canyon: Hike into a canyon oasis of native fan palm groves, cascading pools of water, sycamore trees and ferns. Getting to this cool and inviting place is half the fun! You'll traverse stream crossings in the Jeep and then hang on to your seats as the Jeep faces a challenging off-road rock climb up the infamous Bypass Road. This is a seasonal tour available from October 1 to May 31.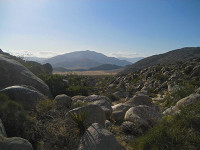 Blair Valley: Visit an ancient Kumeyaay Indian village site and discover morteros — holes bored into rock surfaces that the women of the tribe used to grind seeds and acorns into flour. Later, a moderate one-mile hike through a garden-like landscape of large boulders, juniper trees and yucca leads to a sacred rock where pictographs stand out vividly in their natural pigments. Their meaning remains a mystery to this day.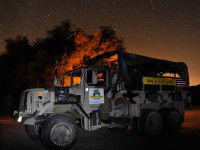 Sunset to Stars: Get the best of both worlds: a daytime excursion with remarkable sunset colors, followed by the splendor of the stars. Off-road through the badlands and out to the spectacular overlook at Font's Point. At a remote homestead site at the base of the Santa Rosa Mountains, watch the sunset and enjoy wine and a casual dinner. As the stars come out, kick back in camp chairs and watch why USA Today has called Anza-Borrego Desert State Park a "stargazer's paradise."
8-hour tour (includes hearty lunch & iced lemon water)
For the 8-hour tours, you can explore farther along any of the 5-hour routes.
You can also piece together highlights from different tour routes — as long as those features are not too far apart. Tell us what you're looking to see, and we'll create a custom itinerary that's a great fit!
Have your own idea for an itinerary? GREAT! We'd love to put together a private tour package for your group, fitting the vehicle and itinerary specifically to your needs.
Give us a call: 760.767.1232